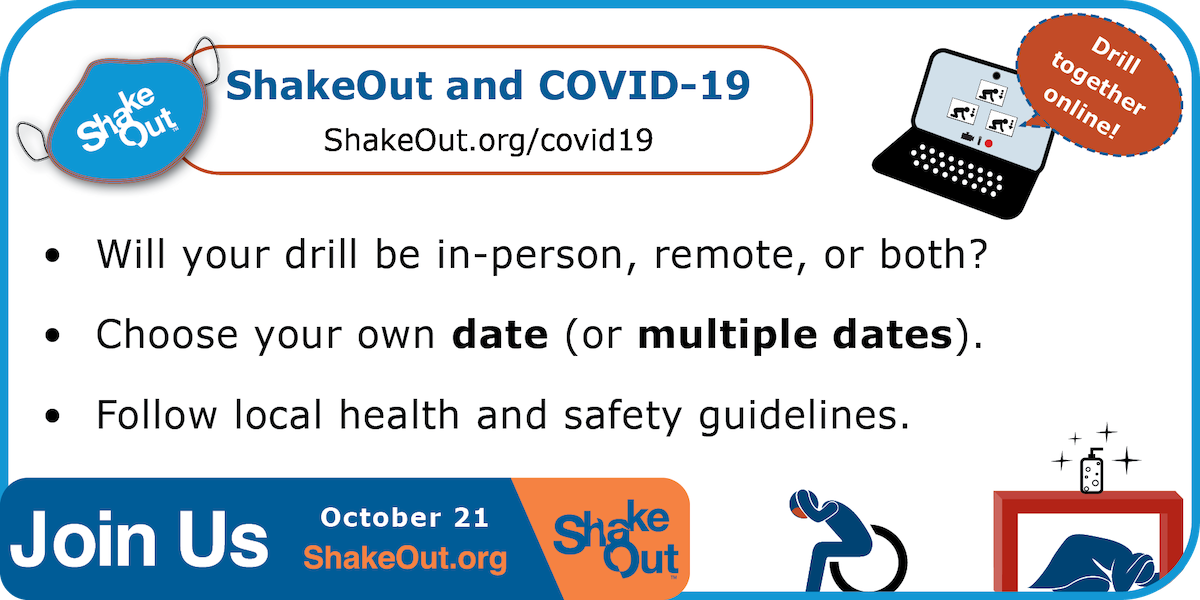 Register for your region's
2022 Great ShakeOut!
Throughout the COVID-19 pandemic, we have had to make many adaptations for home, work, and school -- all while learning a lot. As you plan for ShakeOut this year, consider: When was the last time you checked on your disaster supplies? Have you "Secured Your Space" to prevent damage and injury? What changes are there to your emergency plans and contacts? ShakeOut organizers are here to help you (and everyone, everywhere) successfully participate again this year.
As with any year, you can ShakeOut when and where you want, whether that's at home, work, school, or perhaps through a video conference with people working or taking classes from home. We can and should still practice how to be safe when the earth shakes, especially when your situation changes. Your ShakeOut activity may look different this year, but there has always been flexibility in how and when you would like to hold your drill.
In many regions, ShakeOut has been an annual practice for more than ten years because everyone gets to participate in the way that works best for them. This could mean you have your drill on another day than this year's International ShakeOut Day, October 20, or across multiple days (depending on your situation).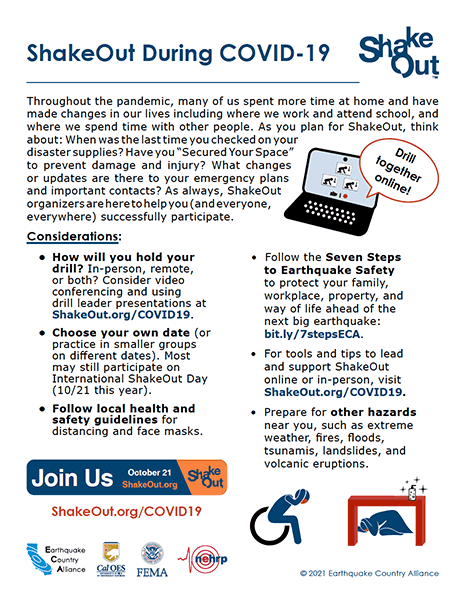 Download this PDF flyer in
English
Other Languages
While some ShakeOut drills and other activities may happen as always, there are some new considerations:
Where will you all be for your drill? Together, or some at work, school or home? Consider video-conferencing!

How will you incorporate COVID-19 health and safety guidelines into your activity?

Is it better to have everyone participate all at once, or perhaps in staggered (or even repeated) dates and times?

Over the years, many people have found more peace of mind by going the extra mile as a part of their ShakeOut participation. They have proudly secured their furniture, appliances and art from shaking, worked with neighbors, schools, and co-workers to make better disaster plans, and even retrofitted their homes and businesses. And of-course, at a minimum, they have held a simple Drop, Cover, and Hold On drill. This year, going the extra mile might mean participating at a different time or location, with physical distancing and other protective measures in place.
We're all in this together.
NEW! Powerpoints for leading ShakeOut Drills (Online or In-Person)
These presentations have been developed for drill leaders to use online (distance learning or remote workers) but also can be used for in-person drills. Download the version for your group, and follow the instructions in the first few slides and in the notes for each slide. Each presentation has optional slides, and multiple versions of for narrating your drill (audio recordings or text you can read).
NEW! Videos from CUSEC about how to get prepared and how to participate if working or learning from home
| | |
| --- | --- |
| Virtual Learners: | Remote Workers: |
| | |