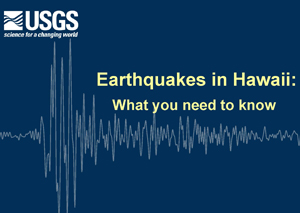 Earthquakes in Hawaii -
What you need to know
(PDF)
The Hawaiian archipelago experiences thousands of earthquakes each year. Most are so small that they can only be detected by seismometers, but some earthquakes are strong enough to be felt and cause damage on multiple islands. The strongest of these earthquakes originate in zones of structural weakness at the base of the volcanoes or deep beneath the islands and can impact residents across the state.
In 2006, a magnitude 6.7 earthquake occurred off the northwest coast of the Island of Hawai'i. Roads and buildings on Hawai'i and Maui were damaged by strong shaking. As a result, 61 buildings were declared irreparable. Several landslides occurred blocking roads and cutting off an entire community on Maui. Power outages were widespread on the islands of Hawai'i, Maui and Oʻahu. In total, the 2006 earthquake caused $200 million in damage statewide.
In 1975, Kīlauea Volcano's south flank was the site of a magnitude 7.6 earthquake, the highest magnitude event in Hawai'i during the last century. The shock was felt as far away as Kauaʻi, more than 300 miles from the epicenter. On the Island of Hawaiʻi, the Kalapana coast subsided almost 12 ft, generating a 45 ft-high tsunami that claimed two lives, destroyed houses in nearby Punalu'u, sank fishing boats in Keauhou Bay in Kona, and damaged boats and piers in Hilo.
Strong earthquakes have also been recorded historically around the islands of Oʻahu, Moloka'i and Maui. While the seismic shaking hazard near these modern population centers is low on these islands compared to that on the Island of Hawai'i, it is comparable to seismically active areas in the United States Intermountain West region.
Please consult the following links for more information about the risks that earthquakes pose in your area:
Recent Earthquakes in Hawai'i
The U.S. Geological Survey's (USGS) Hawaiian Volcano Observatory (HVO) monitors earthquakes in Hawaiʻi and posts the most recent earthquake locations on the internet. Check out this webpage for Hawaiʻi's most recent earthquake activity.
Earthquakes in Hawai'i - An Underappreciated but Serious Hazard
Hawaiʻi earthquakes are generally caused by either volcanic activity or structural adjustment of the volcanic mass on the ocean crust. Details on Hawaiʻi earthquake characteristics are described in this USGS Fact Sheet.
USGS Earthquake Hazards Program
While the magnitude of most Hawaiʻi earthquakes are small, larger damaging earthquakes can occur. Earthquake and shaking information to estimate the seismic hazards within the State of Hawaii is provided on this website.
Retrofit Expert System
The type of Hawaiʻi homes that are most vulnerable to earthquake damage are post-and-pier structures. Specific advice on how to retrofit these homes to better withstand earthquake shaking is provided on this website.
NOAA Pacific Tsunami Warning Center
Being fully aware of Hawaiʻi earthquakes and their consequences means also being aware that they can and do generate dangerous tsunamis. If you are near the shore and feel an earthquake, Drop, Cover, and Hold On until the shaking stops. Once the shaking stops, move inland immediately. Do not wait for officials to issue a warning. The NOAA Pacific Tsunami Warning Center provides warning of damaging tsunamis produced by distant earthquakes. However, their ability to provide advance warnings of tsunamis generated by Hawaiʻi earthquakes is somewhat limited.

Why is it important to do a Drop, Cover, and Hold On drill? To react quickly you must practice often. You may only have seconds to protect yourself in an earthquake, before strong shaking knocks you down--or drops something on you. Practicing helps you be ready to respond.

If you are inside a building, move no more than a few steps, then Drop, Cover and Hold On:

DROP to the ground (before the earthquake drops you!),
Take COVER by getting under a sturdy desk or table, and
HOLD ON to it until the shaking stops.

Stay indoors till the shaking stops and you are sure it is safe to exit. In most buildings in Hawaii you are safer if you stay where you are until the shaking stops.


If you are outdoors when the shaking starts, you should find a clear spot away from buildings, trees, streetlights, and power lines, then Drop, Cover and Hold On. Stay there until the shaking stops.


If you are driving, pull over to a clear location, stop and stay there with your seatbelt fastened until the shaking stops. Once the shaking stops, proceed with caution and avoid bridges or ramps that might have been damaged.


If you are near the shore, Drop, Cover, and Hold On until the shaking stops. Then get up and move inland two miles or to land that is at least 100 feet above sea level immediately. Don't wait for officials to issue a warning. Walk quickly, rather than drive, to avoid traffic, debris and other hazards.


If you are indoors, stay calm, do not attempt run out as debris and falling objects could cause serious injuries. Move away from windows, large objects that could topple such as book cases and televisions or other appliances. Drop, Cover, and Hold On until the shaking stops. Interior corners of rooms may provide for strong points in buildings if there is a potential for building collapse. Once the shaking has stopped, check all utilities for any problems such as water or gas leaks and electrical shorts or arcing and turn off utility mains if safe to do so. Use caution when exiting the building and find a safe place to assemble and wait for help.
Ground shaking during an earthquake is seldom the cause of injury. Most earthquake-related injuries and deaths are caused by collapsing walls and roofs, flying glass and falling objects. It is extremely important for a person to move as little as possible to reach the place of safety he or she has identified because most injuries occur when people try to move more than a short distance during the shaking.
Look around you now, before an earthquake. Identify safe places such as under a sturdy piece of furniture or against an interior wall in your home, office or school so that when the shaking starts you can respond quickly. An immediate response to move to the safe place can save lives. And that safe place should be within a few steps to avoid injury from flying debris.
Further information: