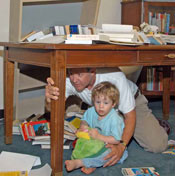 Start here to be included
in the 2013 ShakeOut!
Mark your calendars! Millions of people worldwide will Drop, Cover, and Hold On at 10:17 a.m. on October 17th*. You are invited to join them by participating in the 2013 Great NorthEast ShakeOut!
Last year more than 19.4 million people were registered in Great ShakeOut earthquake drills worldwide. Participating is a great way for your family or organization to be prepared to survive and recover quickly from big earthquakes.
2013 is the first year that Northeast states will be organized as an Official ShakeOut Region. FEMA and the Northeast States Emergency Consortium are coordinating recruitment across the entire region.
* You can hold your drill at any time within 2 weeks of October 17th.