The following materials are resources for administrators to develop plans for their school or district's ShakeOut drill this October.
---

ShakeOut Drill
Manual for
K-12 Schools
(PDF)
This document describes four levels of drills; pick the drill level that makes the most sense for your school or district. Each level builds upon the other and increases in complexity. Schools or districts that have been successful with a lower level should consider doing a more advanced drill during the ShakeOut.
Level 1 – Simple: Drop, Cover, and Hold On Drill and Building Evacuation
Level 2 – Basic: Life Safety Drill
Level 3 – Intermediate: Decision-Making Table TopDrill
Level 4 – Advanced: School Standard Emergency Management Simulation Drill
---


School Drill Model
and Templates
(Advanced)
(.doc)
(.pdf)
Excerpt: Download a self-survey for your planning purposes to check your current level of preparedness and get ideas on how to better prepare your school or district for California's next big quake, as part of your ShakeOut Drill activities.
If you are planning to conduct a Level 3 or Level 4 drill, this document provides the following: model preparedness surveys, letters to parents, memos to faculty and staff, preparation and supply guidelines, model emergency response roles and responsibilities, drill evaluation forms and more. These model documents may serve as a helpful guide for schools and districts which do not already have standardized forms.
---
Additional resources:
Safety recommendations for various situations, ShakeOut posters and flyers, messaging resources, videos, and much more.
Audio and Video "Drill Broadcast" recordings have been created to provide instructions during your Drop, Cover, Hold On drill.
Sample phone script for auto-dial messages to parents (English and Spanish)
Take-Home Letter (English) to inform parents about the ShakeOut Drill
Take-Home Letter (Spanish) to inform parents about the ShakeOut Drill
Comprehensive School Emergency Planning Resources, including sample drill documents, developed by LAUSD
5 Ways to Support Your Districts, a guide for how you as a County Office of Education can get your districts to participate!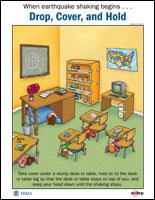 FEMA "Drop, Cover,
and Hold" Poster
(PDF)
This poster is available in multiple languages here.