Official ShakeOut Region Resources:

Please note: The materials on this page are provided to promote ShakeOut participation and preparedness in other states and countries that are not official shakeout regions (which have customized resources).
ShakeOut Resources with no date are also available.
Media / PIO Resources
B-Roll, PSAs, Drill Broadcasts, Web resources, Key Messages, Media Venues, and more.
Drill Manuals and Other Planning Documents
Powerpoints for leading ShakeOut Drills (Online or In-Person)
For grades K-4, grades 5-12, higher education, and all other organizations; plus a version in Spanish)
Workplaces

ShakeOut Drill Manual for Businesses (PDF)
ShakeOut Drill Manual for Non Profits and Other Organizations (PDF)
Countdown to ShakeOut for Organizations (English | Other Languages)
Benefits to Participating Businesses (PDF)
Earthquake Safety in Stores (English | Other Languages)
ResilientWorkplace.org
Seven Steps to a Resilient Workplace
Disaster Resilient Business Toolkit
QuakeSmart Community Resilience Program
Schools and Childcare

K-12 Schools Drill Planning, Educational, and Preparedness Resources
Earthquake Safety For Parents and Care Providers of Young Children and Infants (English | Other Languages)

Higher Education

Registration Guidelines and Participation Resources for Higher Education Institutions

Museums, Parks, Libraries, and other Free-Choice Learning Institutions

Guidance, coordination, and extensive resources
Great ShakeOut Earthquake Drills Toolkit for Free-choice Learning Environments
ShakeOut Flyer for Museums, Libraries, Parks (etc.)
Government

ShakeOut Drill Manual for Government Agencies and Facilities (PDF)
Options for Government Agency Participation and Outreach (PDF)

Healthcare

ShakeOut Resources for Healthcare Organizations
Includes Suggestions for having your Shakeout participation count towards Centers for Medicaid and Medicare Services Emergency Preparedness Rule
People with Disabilities and Other Access or Functional Needs

Earthquake Country Alliance documents, videos, and graphics for Seniors and People with Disabilities
General

Prepare to survive and recover with the Seven Steps to Earthquake Safety
Protect yourself during an earthquake: Drop, Cover, and Hold On!
Recommended Earthquake Safety Actions (including situations when you cannot get beneath a table) (English | Other Languages)

Multimedia
Earthquake Safety Video Series Learn how you can stay safe from shaking in a variety of situations. (YouTube, captions in English, Spanish, and French)
Audio and Video "Drill Broadcast" recordings created to provide instructions during your Drop, Cover, Hold On drill.
Custom Flyers for each Category (PDF files)
Posters | Flyers
Download these PDF files that can be printed at 8.5x11 as flyers, or printed larger as posters.
Web and Social Media Graphics
You can post ShakeOut graphics optimized for Facebook, Twitter and Instagram to encourage participation in the ShakeOut.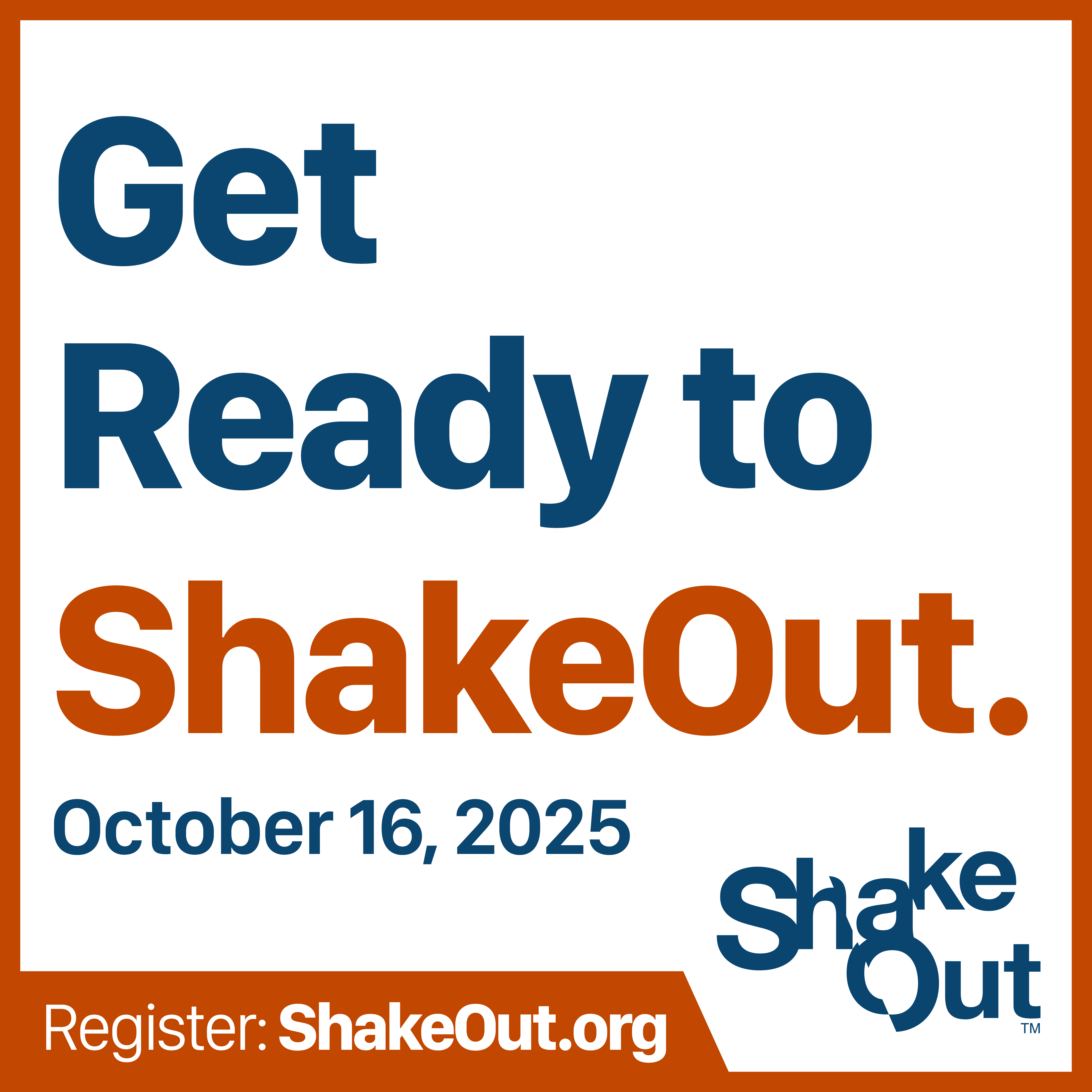 "Get Ready to Shake Out"
PNG (1080 x 1080px)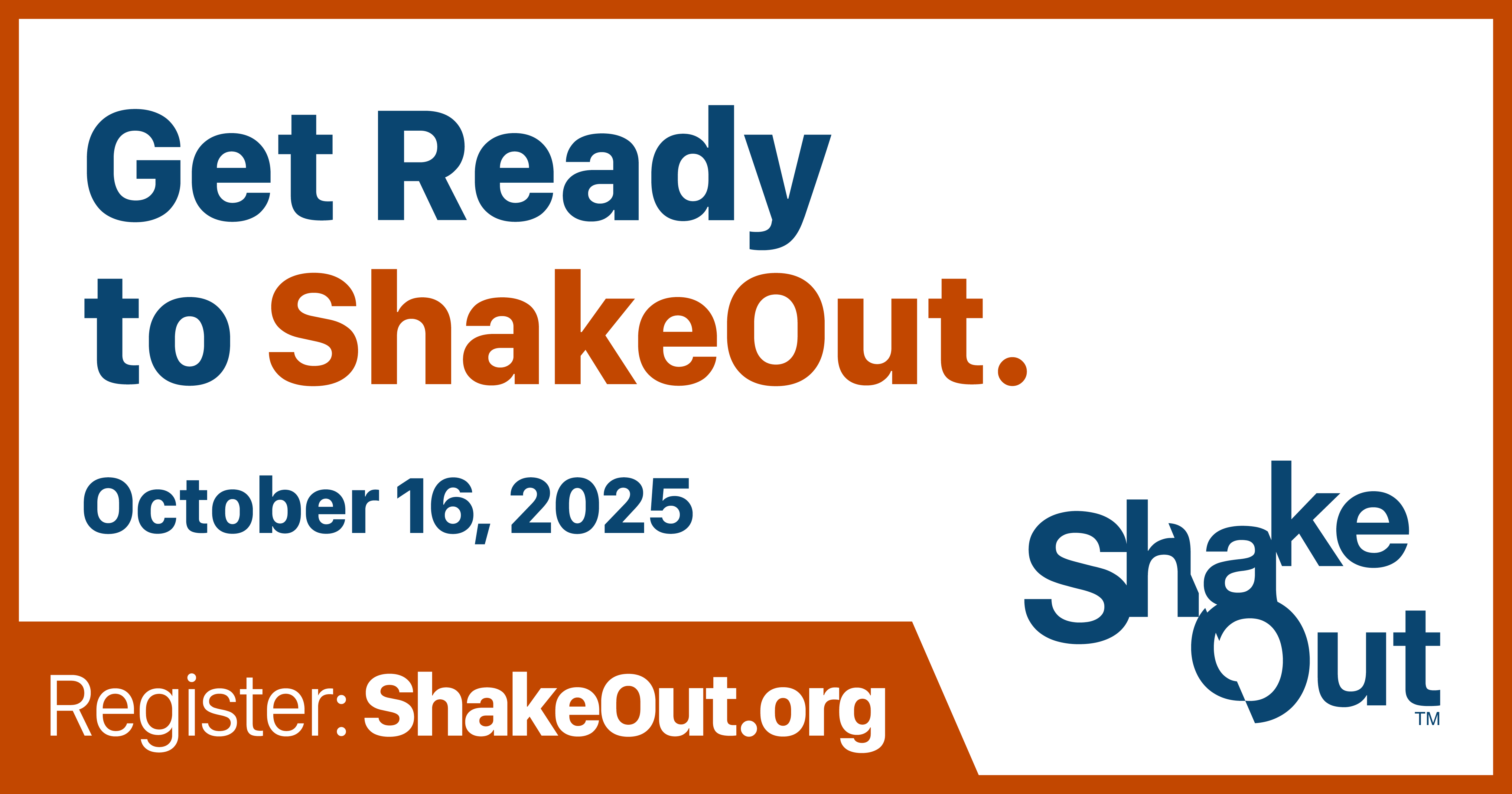 "Get Ready to Shake Out"
PNG (1200 x 630px)


"Get Ready to Shake Out"
PNG (1080 x 154px)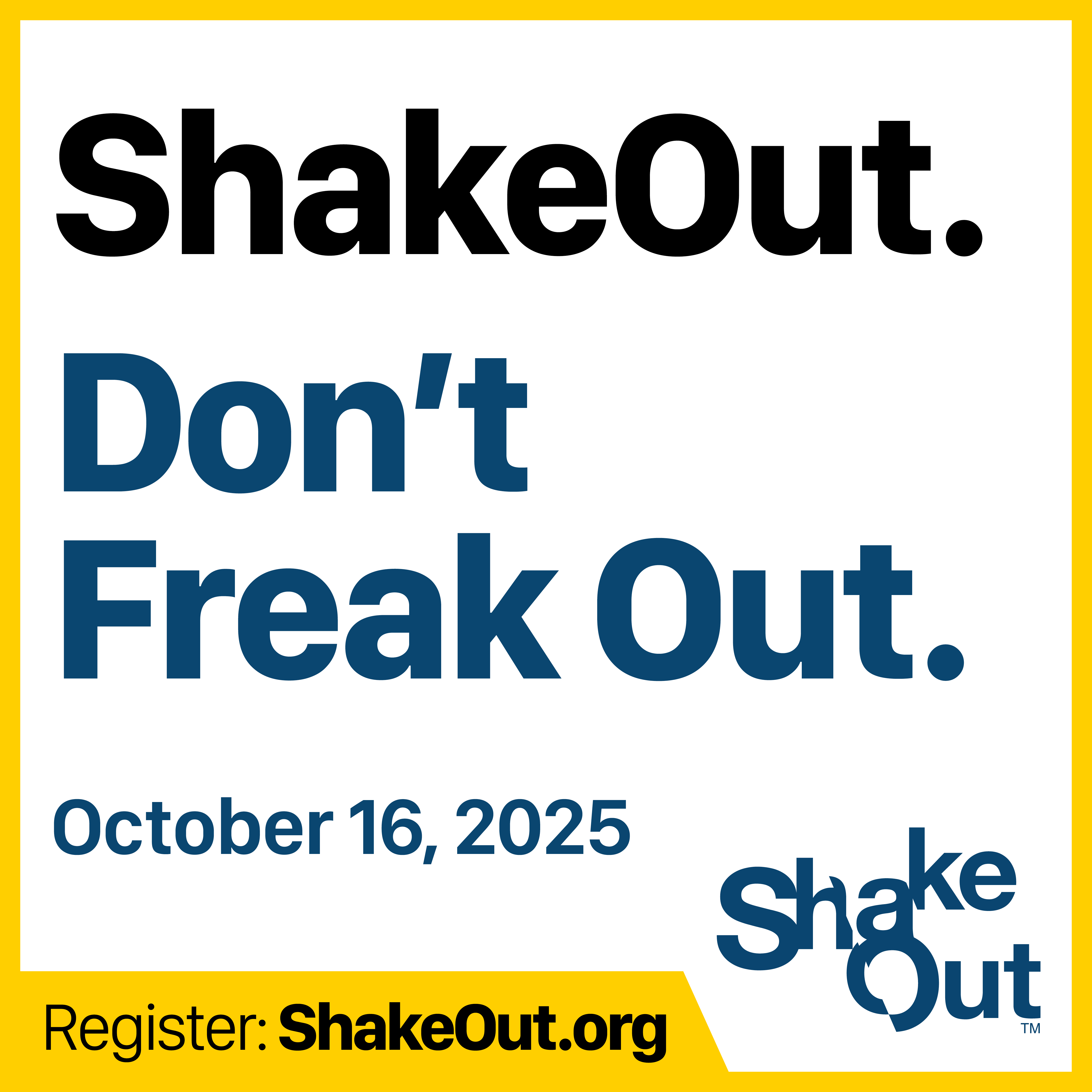 "ShakeOut. Don't Freak Out"
PNG (1080 x 1080px)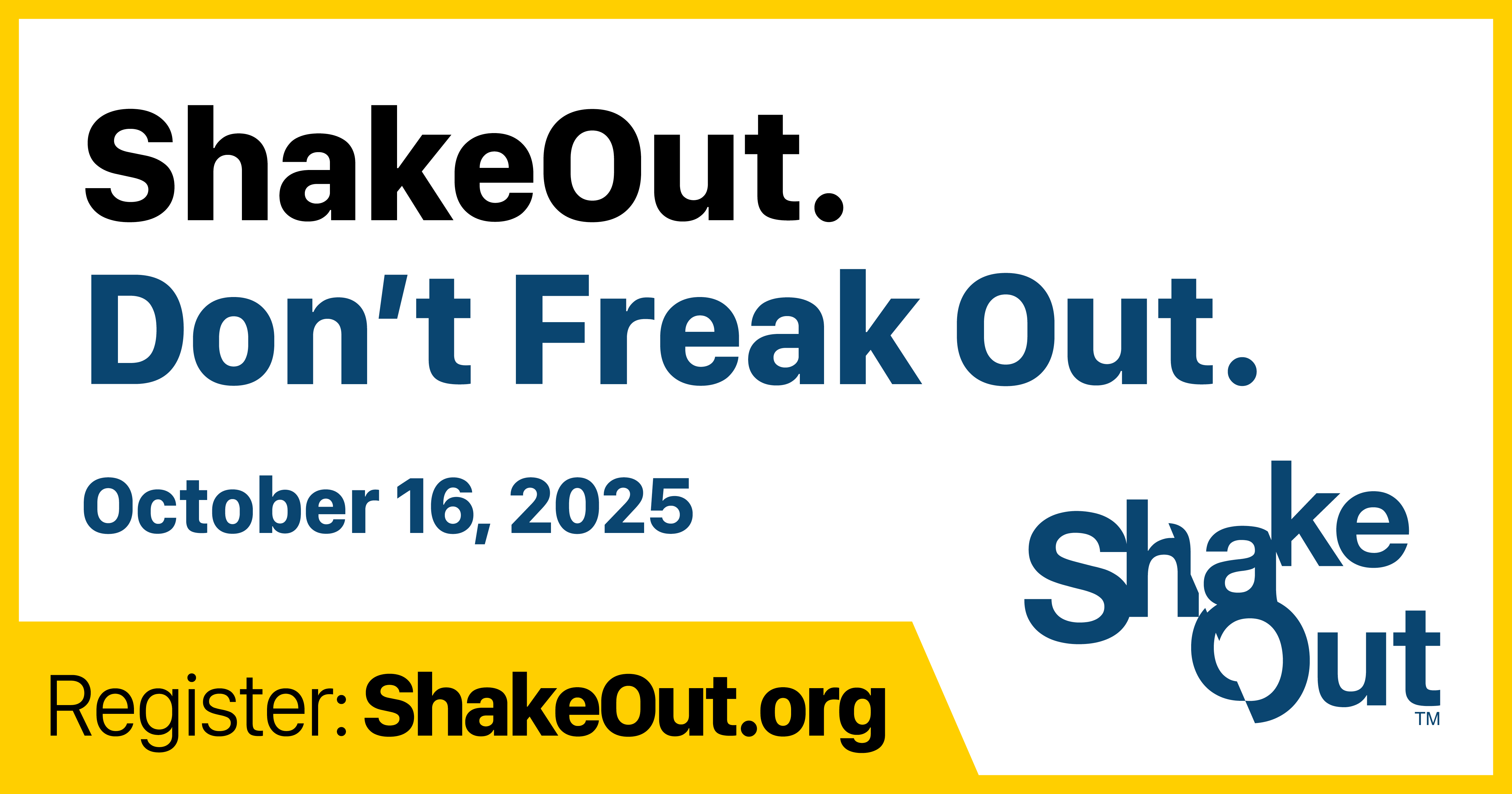 "ShakeOut. Don't Freak Out"
PNG (1200 x 630px)


"ShakeOut. Don't Freak Out"
PNG (1080 x 154px)